Here you will find information about projects I have been involved in & news about what I am working on at the moment.
Jaq's Framing Shop
A project for a business in Mexborough, South Yorkshire.
Doncaster Arts Festival 2017
I painted on shop windows during the three days of the festival, chatting to people about what, how, & why! Getting lots of positive reactions.
For more images see the 'Public Art' in section Galleries.
Window shopping
Painting on shop windows again! This time in Mexborough, on a very busy corner, with images of local interest, - Billy Casper with kestral from the film 'Kes', and Ted Hughes poet laureate, who spent his school years in the town.
Christmas Fayre at Wentworth Woodhouse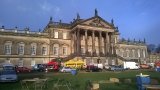 December 2016
I was happy to be part of a large Christmas Fayre at one of the largest stately homes in the country, Wentworth Woodhouse near Rotherham.
I had on show around fifty miniature paintings, some watercolour, some acrylic. Some of these appear in the gallery "Winter Scenes"
September 2016,
The Doncaster arts festival "DNweekend" staged different events all around the town over a weekend early in September.
I spent a day painting & meeting people in Doncaster market place. The subject was a setting of some impressive buildings
in the town into which I placed visual "quotes" from well known paintings.
See the Townscape gallery to view the finished work, "Doncaster, City of Art"
...more